Our History
On March 14, 1926, 169 souls were gathered in the auditorium of Lincoln Elementary School as the newly organized Calvary Baptist Church. With Rev. A. M. Brown serving as moderator and Brother A. L. Stringer as clerk, the new church called Rev. George Wilburn as Calvary's first pastor.
While worship services were conducted temporarily in the Lincoln school, some classes were held in Lawton's Union Park at 6th and "I" Avenue. It was not until November of 1926 that a tabernacle was erected at 8th and "H" Avenue, across the street from where the church is currently located today. During the early days of Calvary, new converts were baptized in the Union Park swimming pool. It is also interesting to note that the first building had only a dirt floor with sawdust scattered over it. Each Saturday, it had to be watered down for the Sunday services.
In the 1930's the church won many people to Christ. The church grew and focused on its vision for this community. In the 1940's, three missions were established and eventually became autonomous churches, two of which continue gospel-centered ministries to this day. Jefferson Avenue (formerly called Friendship) was established in 1955. Immanuel Baptist was established in 1949 and Cameron Baptist was established in 1948.
In the 1950's and 60's our present auditorium, three offices, four nursery rooms, and classrooms were constructed. In the 1970's an education wing was constructed and was dedicated on December 9, 1973. The old frame educational building on the south side of "H" Avenue was then torn down and removed. A new parking lot was laid out and is still being used today.
In the 1980's Calvary experienced great growth and several hundred souls were saved. During this time Calvary started a Spanish Mission. Romelio Gonzalez was established as its pastor and it is now the First Baptist Hispanic Church at 819 SW Magnolia.
In the 1990's Calvary refurbished the auditorium, resurfaced both parking lots, purchased the multi-media equipment, remodeled bathrooms, kitchen, and fellowship hall. The church also began facilitating a Clothes Closet and Dental Clinic which are still active today.
In the 2000's the 20/20 Vision Team was established to prayerfully consider the future growth and ministry of Calvary. In 2015, Calvary helped start another Spanish mission. This fellowship would be called Jesucristo es la Respuesta, or Jesus Christ is the Answer. Pastor Jose Robledo serves as the pastor of the growing mission. Calvary is working towards a future where people from all backgrounds and seasons of life are joined as one family exalting Christ as Lord.
Pastors of CBC
Brother Wilburn (1926-1927)
Rev. J. F. McCrary (1927-1930)
Rev. W. A. Wilcoxson ("Bro. Willie") (1930 – 1940)
Rev. Weldon Brooks (1941 – 1942)
Rev. W. Alvin Squyres (1942)
Rev. Dewey C. Squyres (1942 – 1948)
Rev. Ford F. Gauntt (1949 – 1953)
Rev. Henry Wall (1953 – 1960)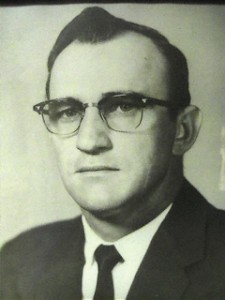 Rev. Troy B. Corzine (1961 – 1962)
Rev. Charles Baggett (1963 – 1978)
Dr. Johnnie Curtsinger (1979 – 1985)
Rev. Gary MacManamy (1986 – 1991)
Dr. Randy Robertson (1992-2001)
Tom Alley (2001-2004)
Dr. David King (2005 – 2010)
Mike Ellis (2011-2016)

Daniel Litchford (2017-2020)

Donald Kirby (2021-Present)